In a world where entrepreneurship is exploding, you must remain on top of all the latest business tools available for the success of your small business. The idea here is to work smarter rather than harder. To maintain your productivity and focus on the things that are most important to your business, you must be aware of the best tools available.
There are numerous business-related and marketing software on the market, making it difficult to determine which are the finest for your business. Because business must be completed fast, adopting something new can be costly and challenging. These are the 7 tools every business needs.
1.   Google Analytics
Numbers are important when starting a new business. What is the volume of traffic on your website? Where does the vast majority of that traffic originate? What are the major demographics of your audience? These questions are critical to business success, yet it can be difficult to keep track of them. This is where Google Analytics comes in.
Google's statistics tool is no exception to the company's reputation for providing innovative and user-friendly services. You can check the countries in which your website has been viewed, the percentage variances in traffic drivers, and important metrics by day, week, month, or year.
2.   MailChimp
It is critical for a small business to spread the word about its idea, service, and product. While social networking might help you reach out to new clients, MailChimp can help you keep them. MailChimp can help with email marketing as it helps you deliver newsletter to your existing contacts by providing simple templates and clearly highlighted filtered instructions. Users with little or no technical or design skills can simply produce a visually appealing E-blast that will capture and hold the reader's attention. MailChimp is a fantastic tool for businesses of all sizes to excite and engage their existing customers.
3.   Xero
This is cloud-based accounting software designed primarily for small businesses. It offers tools to assist businesses in analyzing cash flow and financial performance in real-time, as well as help accountants, guarantee healthy balance sheets for their customers. You can also tailor financial reports to measure certain financial key performance indicators (KPIs) and compare your financial management and performance to predetermined or real periods. Businesses can easily take online payments in many currencies from providers and credit cards. Xero also makes it easy to create and send invoices.
4.   Trello
Trello is a task and collaboration platform that may be used for a variety of projects, including marketing campaigns, customer assistance, content generation, data entry, sales tracking, and HR tracking. It's vital to note that it works for most projects, with the exception of invoicing and budgeting, which can be added. It's a simple software for small businesses that conveniently track tasks. Each project management pipeline can also include attachments such as documents, files, or photos.
5.   Slack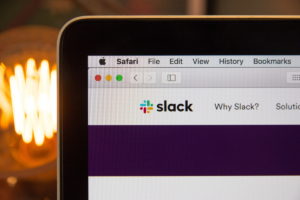 Slack enables team members to connect on any mobile or desktop computer, and it's especially handy for smaller businesses without a central H.Q. Slack has a terrific blend of capabilities, including voice and video calls. It can also be readily coupled with other business applications like Google Drive and MailChimp, allowing for easy information sharing across all platforms. Slack also makes it simple to upload and share items such as Word documents, PDFs, MOVs, JPEGs, and Google Drive files.
6.   LastPass
A password manager is essential for everyone. Because it is simply hard to create unique passwords for all of the websites and services we use on a daily basis, we end up using the same passwords repeatedly, posing a serious security risk. The Teams edition is designed exclusively for businesses and includes features such as the ability to define a password policy and track compliance across your entire company.
7.   LucidChart
When you own a business, the capacity to clearly picture things is critical in the process of planning your business, developing strategies, and determining what is genuinely vital for your business.
A mind mapping tool like LucidChart can be extremely useful in visualizing the connection between the components you're working with, what you want to achieve for your business in the future, the essential categories on your website, and so on.
In other words, LucidChart helps you brainstorm ideas and arrange them together in a graphic representation that shows how everything is related to everything else. The tool also enables real-time team collaboration and data connection, which allows you to connect schematics to live spreadsheet data. It works with Google Drive as well as several other apps.