Right after a move, you end up in a house that's not really a home just yet. For a house to truly be a home, it needs to get personalized so that it reflects the habits of the person who lives there. Here are 7 little ways to make your new home your own:
1. Slow down and get organized.
You might be in a rush to unpack and get settled down but slow down. Take your time to really get organized right from the start. It will be much easier to relax in your new home if you take the time to get everything neat and tidy from the start. Clean the house and think about how you'd like to organize your home. Pay special attention to the closet, drawers, and similar storage spaces, as these can quickly become disorganized if you don't take your time unpacking.
2. Hang art pieces.
Don't leave your walls empty because they'll look uninspiring and dull. Find art pieces that best portray your personal style and hang some artwork on the walls. Don't forget that you also need to pick the frames, and, if you want to go all the way, you can even install picture lights. They'll add charm to the artwork on the walls, and your home will seem cozier. The art pieces don't have to be expensive. You can find affordable art online, or you could even create your own paintings.
3. Display family photos.
Instead of artwork, you can hang family photos on the walls. It's one of the little ways to make your new home your own. It will certainly feel like home when you're surrounded by your loved ones. If you already decided to put artwork on the walls, you can place family photos somewhere else. They can look great on a shelf or on a cabinet. Don't forget to choose the right frames when it comes to family photos too and find the perfect way to display them.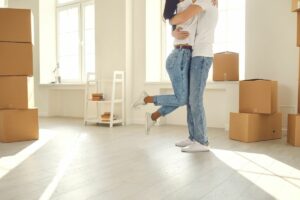 4. Put books on your shelves.
A home with a lot of books on the shelves looks inviting and feels cozy. If you like to read, you'll find pleasure in the sight of books in your new home. Think about organizing when it comes to books too. Will you sort them into sections based on genre or topic, or will you sort them alphabetically? You can also sort them by color which will make your shelf look even better. Don't put off unpacking your books because they'll quickly make your home look a lot more like home.
5. Decorate with houseplants.
Bring your houseplants with you or shop for new ones. Plants bring fresh air and life into a home. Decorating your house with houseplants is one of the little ways to make your new home your own. Pay attention to the light conditions in your house and pick the place for the plants before you get them. You can then shop according to the conditions that the plants will be in. Don't forget to get a watering can, pots, and anything else that you'll need to keep your plants alive. It might also be a good idea to get a pet, but this is entirely up to you. If you'd like a new best friend, don't think only about cats and dogs. Maybe your home isn't right for a dog, but how about fish, birds, or a guinea pig? Having a pet in your home will surely make it a happier place to be at.
6. Put your collections on display.
Do you have a passion for collecting certain things? If so, one of the little ways to make your new home your own is to put your collections on display. It doesn't have to be a real collection. Maybe you simply have keepsakes that remind you of your good memories. Place them around the apartment to constantly be reminded of the good times. You can always start a collection too. It's a great hobby that can also serve as a personalized decoration that makes your home cozier and more attuned to your personality. Speaking of hobbies, you should also dedicate a part of your home to them. Find a space that best fits your specific needs, whether you'll use it to paint, do yoga or read.
7. Make your home smell good.
In the end, you should make sure that your home always smells good, not just looks good. Buy room spray or diffusers, but don't forget to also use candles, which are a much more elegant solution. Pay special attention to making your bedroom smell cozy and inviting and turning your bathroom into a relaxation spa. You can achieve both things with candles.