There are several movie directors who got their start in the business by making self-sponsored low-budget short films. Some of these directors went on to have a lot of success. However, not everyone who works on low-budget short films will become the next George Lucas, Paul Thomas Anderson, or Christopher Nolan. But with the tips below, you will understand nine easy ways to make a high-quality short film on a budget.
9 Easy Ways To Make Your Short Film On A Budget
1. Use The Money That You Have Available
Avoid using credit cards for your movie funding. That will cost you a lot in the future. Instead, as much as you can about the film grants and put that knowledge to good use. Film grants are funds provided by organizations to help in film production. Though awards for filmmakers are often financial in nature, they can also include services or equipment. They provide help for various sorts of productions in the larger field of film finance programs including short film grants.
2. Rent, But Be Cautious
Are you having trouble affording a professional camera? You are not alone; this is not something that many individuals are capable of. They are, nevertheless, accessible for hire on reliable websites. Because you may rent directly from other filmmakers, the price is kept low, and networking is encouraged.
Additionally, if you're renting from a reliable firm, you may choose to rent on weekends. Most suppliers will give you a one-day fee over the weekend. Examine the many possibilities they have to offer. Negotiation is not always a negative thing.
3. Use A Film Editing Software
You don't have to get state-of-the-art software when filming on a budget. The goal of the software is to keep track of all the moving parts and keep everything tidy. If you don't plan your shots properly or if you decide to wing them, you'll almost certainly be going to squander a lot more money. Look into storyboarding or shot listing – there are plenty of apps available nowadays to help you with these tasks.
Make sure whatever software you chose offers easy-to-use sharing tools so you can interact in real-time when things change. Some apps streamline the whole process, putting everything in one location, from screenplay writing to booking shoot days. So, whichever software you choose to keep organized, stick with it. It will allow you to save both time and money.
4. Shoot During Events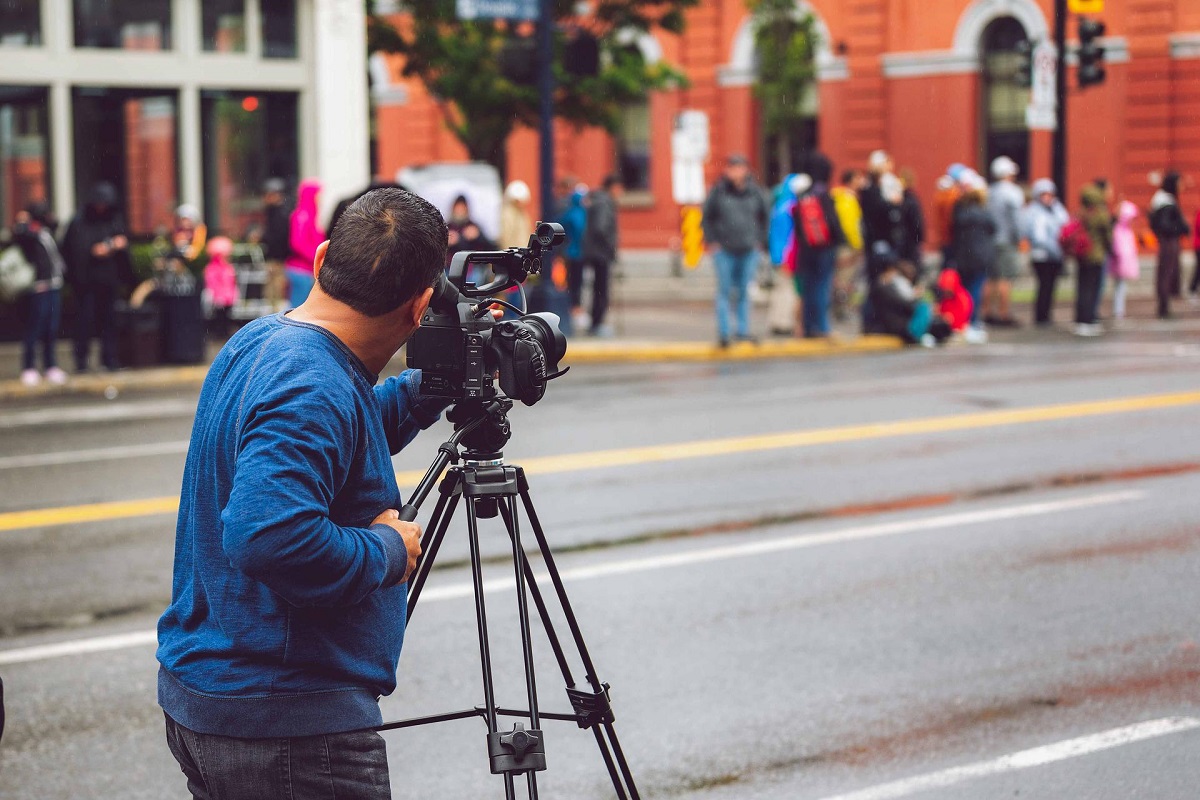 When it comes to the game of shooting, the holiday season is one of the best times of the year. The lights that have been put up on the streets in the area around you might offer you the lighting that you need for your photo, and they are not very expensive or difficult to get to. The celebrations that are taking place on the streets ought to make some kind of contribution to the atmosphere as a whole
5. Use One Location
You shouldn't try to shoot in a million different places if you have a limited budget and are working with several actors at the same time. If you stay in one place, you will save time traveling and won't worry about spending an excessive amount of money on petrol. If you can film outside without having to pay for a location, it is an even better option.
6. Use Cartons As Props
A movie prop is an object that is used on-screen to assist performers in telling the story. Weapons and furniture, as well as food and jewelry, can be used as props. You may put some boxes that you find lying about the home to serve as props if you find any. Protect them by wrapping them in papers or any other available packaging materials. Also, make use of good lighting to display your designs properly.
7. Take Care Of Cast & Crew
This is something that you cannot avoid doing under any circumstances, regardless of how much money you have. Your amazing show would not have been possible without the extraordinary expertise of the performers and staff members who worked on it. When you are planning the shoot and while you are working on the set, make sure that you keep their schedule and requirements in mind at all times.
Final Thoughts
The aforementioned tips can be of assistance to you when it comes to making your short film on a budget. At the same time, you will deliver the best movie experience that can be exciting to the audience you are trying to reach. Please check out our entertainment section for more helpful hints like this one.