Sometimes, new ideas just come to you. Other times, you have to struggle to think of something when you need an idea. Your job or hobby requires you to be creative, or you simply need creative solutions to some problems, but you're not inspired. At times like that, you could use these 8 inspiring ways to enhance your creativity:
1. Do something different.
Gaining a new perspective helps you connect concepts and ideas in a new way. It can even help you come up with new ideas, but how do you gain a new perspective? By thinking differently. And you think differently when you do something different.
Step out of your comfort zone and try new things. Having new experiences will help you gain new perspectives. Some of those experiences might even inspire you to come up with an idea.
2. Write and draw.
You can increase your levels of creativity and concentration simply by holding a pen in your hand, but you'll also have to use it to write or draw. You don't have to write or draw a masterpiece. Simply the act of using the pen to express yourself creatively helps. When you don't have a great idea, write down the bad ideas if you have them. Some of them might inspire a great idea, or you'll at least see what doesn't work, and even that can help you come up with something that works.
3. Listen to music, read a book or watch a movie.
Listening to music disrupts your thought processes just enough to inspire abstract thinking. Naturally, you should listen to it at a moderate volume so that it doesn't disrupt you entirely. When you're enjoying your favorite tunes, you are relaxing, and this lets your mind wander freely. In a mood like this, it's easier to think of creative ideas.
Reading a book is also one of the inspiring ways to enhance your creativity. When you read, you learn about new ideas and open your mind to new concepts. You could also watch a movie, preferably a sci-fi or a fantasy movie.
4. Go for a walk.
Stepping outside and going for a walk boosts creativity during the walk and after it. Taking a walk is also good for your health and overall well-being. It's one of the inspiring ways to enhance creativity that also helps you perform mental tasks. You can combine these ways and listen to music while you take a walk. Don't set a destination, just walk around familiar streets and let your mind wander.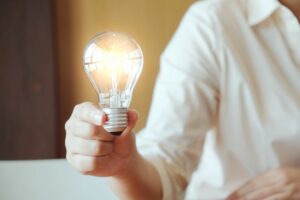 5. Surround yourself with inspiration.
Your surroundings can also influence your level of creativity. So, make sure that your office space (or any other space) inspires you to think creatively. Use motivational posters, book citations, pictures of people who inspire you, or anything else that you find inspiring. You can even make a vision board that will help you stay motivated and focused on your goal.
6. Daydream.
With all the high-tech things, it's easy to find something to do. You have emails to check, games to play, apps to use, and websites to visit. There's simply always something to do. However, find the time to be bored sometimes. Boredom leads to creativity, especially because it gives you the time to daydream.
One of the inspiring ways to enhance creativity is to get bored and daydream. Boredom makes you think creatively because it's a signal that your current situation is lacking, so your brain looks for inspiration and new ideas to overcome that.
7. Talk to others and be curious.
Another thing that leads to creativity is curiosity. Talk to others and be curious about what they have to say. You can learn about their perspectives, ideas, and thoughts, and they might inspire you. In addition, you can talk to them about your ideas and thoughts and get valuable feedback. Talk to your family member, friend, or coworker, and let them help you gain a new perspective.
8. Look at things from different perspectives.
As you already noticed, many inspiring ways to enhance creativity are about gaining different perspectives. Looking at things from more than two points of view helps in producing new ideas. So, consider using the six hats technique. It lets you see things from six different perspectives, and here are they:
Black hat – negative perspective – What doesn't work?
Blue hat – broad perspective – What is the best idea?
Green hat – creative perspective – What are the alternative ideas?
Red hat – emotional perspective – What do you think when you look at things emotionally?
While hat – objective perspective – What are the actual facts?
Yellow hat – positive perspective – What will work?